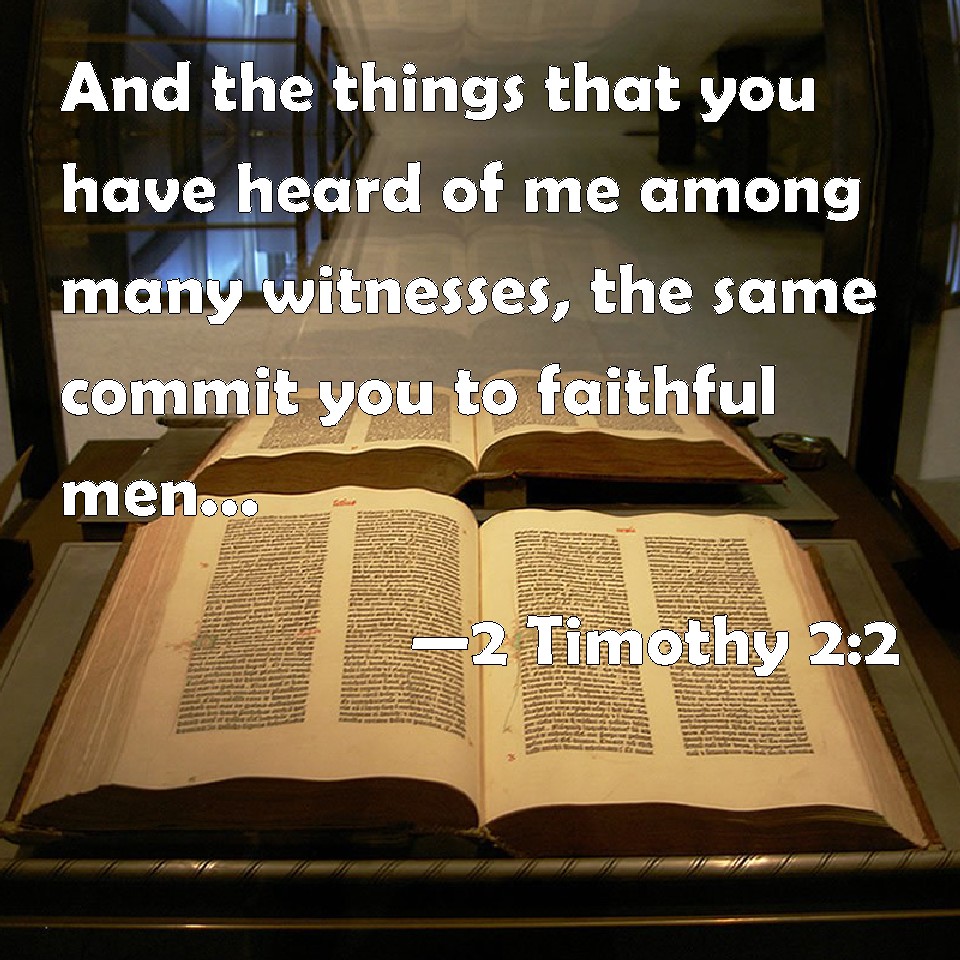 Core scripture: "And what you have heard from me in the presence of many witnesses entrust to faithful men, who will be able to teach others also." (2 Timothy 2:2)
(The following story is true; however, the names have been changed to keep my friends anonymous.)
Message: Summer is such a precious time for teachers. We get to make special coffee dates with old friends and catch up with one another. Last week Andrew texted me to get together for coffee. Before we knew it Michael and John agreed to meet as well. The four of us, formerly members of a quarantine Bible study, were reunited!
I suppose we should back up here for a little back story. I met Andrew at our youth group when he was a senior in high school. We connected immediately, and I knew I wanted to take him under my wing. The night I talked to him, both Michael and John, about the same age, were nearby. I pitched my idea to hook up with Andrew for a little Bible study, and he was down for it. Michael and John wanted in, too. We met every week starting in January of 2020.
It was phenomenal! We began by sharing our testimonies to get to know one another better. So much can be learned when you simply ask some, "Hey, what's your story?" Testimonies turned into Bible study, and we enjoyed it so much that we were meeting over Zoom through quarantine. By the time Andrew went off to Wichita State in the fall, those birdies were ready to fly, believe me!
Fast forward to last Tuesday.  I got a text from Andrew.  He was home for the summer and wanted to hook up for coffee.  I readily obliged, setting up a coffee date with him.  Once that was nailed down, I began to think … why not invite Michael and John?  Before I knew it, there we were, the four of us, sitting down at Panera, catching up on life and old times.  Topic of discussion: How is God using you?
Michael went first since he had to leave for work. He got accepted into a ministry training program in Arizona and moves there in the fall. We had tag-teamed teaching the 7th grade boys small group at our church this year, and he likewise served as an intern under our youth pastor. Michael also led a disciple group (D Group) of 7th grade boys every other Sunday night. The sky is the limit for him!
Andrew was next. His heart was simply full of gratitude. He thanked each of us for our support through his first year of college. Andrew finished with all A's and a B this past semester, solidifying a 3.7 GPA as an engineering major. He remarked how blessed he was to guest speak to our FCA group over Zoom way back in November. Andrew shared his powerful testimony about how to overcome mental health issues. The kids were blown away. So was I!
Good old John was last. I was glad it was just him and me for about 10 minutes at the end. We just don't get that time together. He may have come the furthest. From our school's FCA helper, to a high school graduate during COVID, to a phenomenal 6th grade boys small group leader, to 2nd grade Sunday school teacher, to future intern at our church, John has matured leaps and bounds from when I met him a few years ago. So many little ones look up to him now.
I was tickled pink seeing them all together again. Young men creating their paths in life. Taking the younger generation beneath their wings to disciple them. Disciples making disciples. That is what 2 Timothy 2:2 is all about. The good Lord is at work in those three young men, and He is going to use them plenty in their life. Glory be to God!
Got some extra time this summer? Call up a friend. Or two. Or three. Fellowship with them. Maybe even start a Bile study together. You never know how far that could take someone.
Challenge: Who is someone you haven't heard from in a while? Go through your phone contact list. Text that person, or even better, give them a call. Set up a time to get together for lunch or coffee. Bless them by asking how you can pray for them. Let that time be the highlight of your day to glorify God.
Prayer points: Please lift up the following areas to God …
Pray for all the students graduating, moving to the next phase in life.
Praise God for "Michael" being accepted into the ministry program in Arizona. Pray that he would transition well there and that he would become a well-equipped disciple maker.
Praise God for "Andrew" finishing his first year of college at Wichita State. Pray that the Lord would continue to use his testimony to impact others.
Praise God for "John" and his opportunity to become an intern at our church. Pray that this would be an incredible way for him to grow his leadership even more.
Please pray for a remote student of mine. She attempted suicide twice over the past few weeks and is in treatment now. Her mom reached out to me and let me know she would appreciate a call from me. Pray that the Lord would give me wisdom on how to reach her and show her how much potential she has in life.
Just for fun: I saw this teacher meme about summer below.  Pretty accurate!
Prayer: Lord, thank you so much for the summer months to connect with friends and family. May we utilize this precious time wisely! Amen.
Categories: Uncategorized