Core scripture: "If any of you lacks wisdom, you should ask God, who gives generously to all without finding fault, and it will be given to you." (James 1:5)
Message: It was just a typical Tuesday afternoon for me today. I had just finished my FCA meeting at the Hy-Vee Market Grille. After two Diet Dr. Peppers, my bladder was about to burst. Kinda reminded me of the scene in Forrest Gump when downed all those Dr. Peppers in front of President Kennedy. I can't believe I made it to the bathroom without wetting myself. Yeah, it was that bad!
I digress …
So, I don't think this has ever happened to me before.  As I was doing my business in the bathroom—yeah, I know, weird spot—I felt the Lord speaking to me.  You have a story to share.  Go back to talk to the waiter.  Tell him all about how you came to love me.  I know well enough to listen to the Lord's voice when He speaks.  Even when I am relieving myself. (Anyone ever had that happen to them by the way?)
I said a quick prayer, washed up, and walked out to the table I left my Surface Pro at, snagging it and parking myself at the bar. My waiter was in conversation with another gal, probably about my age. I didn't want this to be awkward in any way, but the Lord was actually giving me purpose and energy. It was an odd feeling I had never felt before, but I really was looking forward to striking up this conversation.
"Mind if I join you guys?" I asked casually.
You could see the server's mind whirling. Wait a second? Didn't I just wait on this guy? Why is he moving over here now? He relaxed when he realized I was just moving spots.
"What are we talking about?" I asked.
Rule number one when you try to witness: try to find a lead into a spiritual conversation. Don't just go up to someone and say, "Do you know Jesus?" I tried that once. In the weight room at Prairie Life once. As a matter of fact, that was the exact line I used on a guy working out with a personal trainer. He shot me down pretty quick. I thought he was going to punch me. Luckily he didn't! And that is a good thing because he could have owned me.
The gal smiled at me and said, "We're talking about kids!"
"Kids?" I said, parking myself two seats away. "I got two of those at home. How about you?"
The conversation was quite natural. One question led to another which led to another. Before I knew it, I found out she was pregnant at 17 with her first child, and by the time she was 23 she had three kids. Now her almost 18-year-old youngest son was getting ready to move out and go to Wichita State in the fall. It was his birthday the next day. Her name was Kari, and her son's name was Nathan. The waiter jumped in every now and then, but the conversation was mainly between Kari and I.
"Yeah, there is definitely a place for me in heaven, raising three boys!" she smiled at me.
Ding! That was my in! Heaven!
"Do you believe in heaven?" I asked her.
"Well …" she hesitated. "I guess?"
I nodded and followed up with, "What do you think happens when you die?"
Yeah, I know. The conversation shifted a little to the serious side, but this was good. I was getting these heart questions out to scope where she stood. Truth be told, she seemed a bit confused.
"I don't really know!" she smiled, sipping her beer. "There might be a heaven; there might not be!"
I decided to take the conversation back a notch. "Well, do you attend church on Sunday?"
"Sometimes we go to Prince of Peace, but I have to work a lot of shifts on Sunday at Aldi."
I smiled at her, "I bet that makes it hard to get to church!"
All the while, the waiter was listening to us. I decided to pull him in.
"What about you? Are you a Christian?" I inquired.
He smiled immediately. I knew his answer before he even said anything. "Yes, I was saved in college."
"That's awesome, man! I was saved in my mid 30's, so you got me beat!"
We just talked. I was wearing my Wanna Taco Bout Jesus (Lettuce Pray) shirt, so I am pretty sure they all knew where my stance was. I found out he was still in school to be a high school orchestra teacher. His wife appeared down the bar, too. Another future educator. Kari went to the bathroom, and I opened up to the young couple about the struggles of being a Christian teacher in public education. I even shared my blog with the server!
Wonder if he is reading about this now, saying, "Dude! He is writing about me!"
Kari was back after a few minutes passed.  I invited her to my church at Legacy.  We talked about the free event at Black Bob Bay Sunday night where guests were invited to join our congregation there.  I promoted the online service my church offers so she could see service on the days she works.
And then I looked at my watch.  It sure didn't feel like it, but we had been talking for nearly 40 minutes!  I knew I had to get moving or my family would be a bit worried about me.  Checking my phone to make sure I didn't have any texts from my wife, I opted for a bold move. 
"Kari, would you mind if I prayed for you?"
How could she say no? She smiled at me and said, "Sure!"
I closed my eyes and began to lift this wonderful lady up to our Lord. "Father, thank you so much for allowing me to speak with Kari. Lord, I pray you will be with her son Nathan on his birthday tomorrow. Help him take his next steps in life and make his transition to college a smooth one. Please fill Kari's heart with your love, Lord, and help this lady find the right church home to grow her relationship in You. I pray all this in Jesus heavenly name. Amen!"
She thanked me, and I headed out the door, waving to the young waiter and his wife. I am not sure where Kari stands now, but I know she is one step closer to the Lord after having talked to me for a while. I felt exhilarated! It was a high I had never felt before. I just never got out of my comfort zone like that before, and it was kinda cool! Time very well spent.
What about you? Where is your comfort zone? Do you ever walk out of it? How many times have you shared your story over the past month? Are you a bold Christian or a meek Christian? How many people have you shared the gospel with lately? We are commanded by Jesus to live out the Great Commission in Matthew 28:18-20. How has that been going for you lately? Are you living a life of intentional purpose to share God's glory with others?
Those are some tough questions! Guess what? You have some time off this summer to think about them. Get out of that comfort zone that you are in right now. Take a step out onto the waters like Peter did. He may have sunk, but he certainly had the boldness to give it a shot, didn't he?
Challenge: I know this is going to sound weird, but my boss from FCA has tried it, and it resulted in a 45-minute in-depth conversation.  Go by yourself to get a bite to eat at your local Subway or fast food place.  Find someone eating alone.  Strike up a conversation with them and ask if you can have some of their time and eat with them.  Tell them it is a project for school or something.  Then sit down and get to know them.  Take their spiritual temperature.  Share your story if the Holy Spirit deems it appropriate.  Have a gospel conversation and ask heart questions that make your counterpart really think. I might actually try that this week!
Prayer points: Lift up the following areas to the Lord …
Pray for Kari to find a church home and for her son Nathan to find a personal relationship with Jesus before he goes to college.
Pray that you can engage others in bold conversations about your faith. Even total strangers!
Pray for my student Chloe as she recovers at a mental health treatment center in California. Praise God that I got to speak to her and encourage her before she left, and she will be getting many letters of support soon!
Pray for opportunities to share your story.
Just for fun: That whole Forrest Gump scene mentioned above?  I found a pretty righteous gif on it below.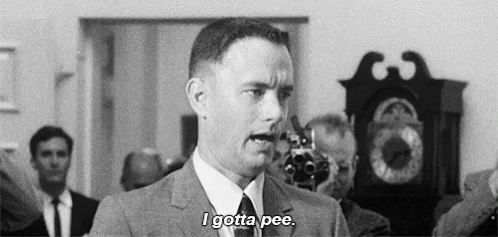 Shirt of the Week: Is there any doubt here?
Prayer: Lord, stretch me!  Give me opportunities to witness for you in extraordinary ways this summer.  Amen.
Categories: Uncategorized