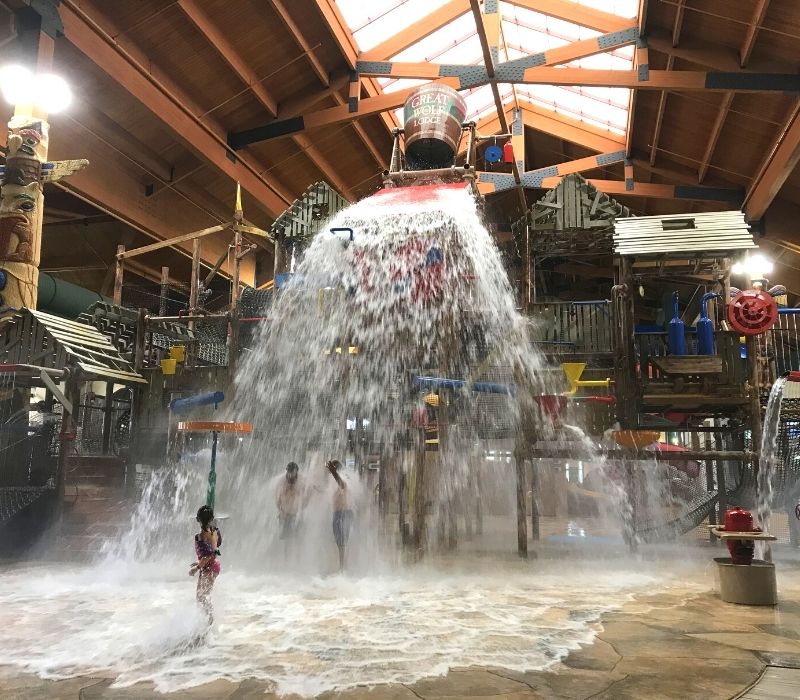 Core scripture: "And whatever you do or say, do it as a representative of the Lord Jesus, giving thanks through him to God the Father." (Colossians 3:17)
Message: Three amazing words officially kicked off our summer this week: Great Wolf Lodge! Ever been? It is basically a water park paradise for kids. And guess what? This almost 45-year-old "kid at heart" might have loved the experience even more than his own kids!
Well, maybe. I am sure my 5th grader would argue that HE had more fun. He just likes to argue sometimes. He might be a future lawyer. Yeah, that preteen stage is quite extraordinary!
Yes, for teachers, summer is a time for family vacations or "stay-cations." Chances are that plenty of you are preparing for your long-planned family road trip to Yellowstone or your first trip to a scenic Florida beach or even just a family getaway to see relatives nearby.
Time to ask a few questions: Will others know where our faith is by observing us? How can our families grow with the Lord even while on vacation? How can we be lights for Him away from home?
Tip 1: Carve out a quiet time.  This may be easy, or it may be a challenge.  One thing is for sure—Jesus calls us to carry our crosses daily (Luke 9:23).  The craziness of the attractions at Great Wolf Lodge were too busy for me.  My quiet time had to be done in the hotel room, and I even utilized the balcony for peaceful prayer time, gazing out over the scenic view.  I did not let my boys off the hook either.  We did family devotions in our hotel room each day we were there, always closing in a family prayer. 
Tip 2: Never miss an opportunity to say thank you.  Vacations will give you multiple opportunities to do this.  From servers at restaurants to the lifeguards at the pool, a warm smile and a thank you is all you need!  Be thankful in all circumstances (1 Thessalonians 5:18).  Encourage workers when you see them doing their job well.  Leave a thank you note for the maid or even write a formal letter of appreciation to the general manager.  Bonus points if you weave in any scripture or spiritual content!  
Tip 3: Be patient with young workers.  Do you remember your first summer job?  What did it feel like to be treated with love when you were there?  A plethora of high school and college-aged kids are getting their first crack at a job.  Lovingly help them in their work.  Encourage them.  Politely make suggestions if you need to.  Proverbs 15:1 says, "A soft answer turns away wrath, but a harsh word stirs up anger."  I still remember a polite couple I waited on years ago that helped remind me that clearing glasses off the table should not be done until a family leaves the restaurant.  That was half my life ago! 
Tip 4: Indulge in God's creations.  This is a no-brainer!  Vacations provide a beautiful opportunity to explore things you never get to see in your hometown.  Mountains.  Beaches.  Historical sites.  Hiking.  You name it!  Even simply taking time to marvel at the gorgeous hues He painted the evening sky.  John 1:3 states, "All things were made by him; and without him was not anything made that was made."  Take advantage of the majestic new scenery! 
Tip 5: Leave work at work.  This one is difficult; especially if you are on a trip that mixes business with pleasure.  Ecclesiastes 3:1 says, "For everything there is a season, a time for every activity under heaven."  Guess what?  If you are hitting the water slides at Great Wolf Lodge, that is probably not the best time to check e-mail on your phone.  Save that for later in the afternoon while your kids are watching Phineas and Ferb.  Give your full heart to your family while you can.  Be present!   
Our stay at the Great Wolf Lodge was phenomenal. From zipping down waterslides to devouring pizza while watching cartoons, we utilized every second of the day. Tons of laughs, tons of pictures, and tons of memories. It is time you all did the same. Make use of this much needed time off. Safe travels to you and your loved ones as you tackle the summer!
Challenge: Read through the 5 Tips For Summer Vacations with your family. Take them to heart as you travel with your family. If you have any tips that you use, feel free to reply back to this blog. Or if you have a success story of your own of using any of the tips, I would love to hear about it!
Prayer points: Lift up the following areas to the Lord …
Praise God for the summer months where we get the opportunity to vacation and enjoy His creations!
Pray that God can use you and your family to be lights for Him even away from home.
Pray that God will give you time management this summer to transition into a different routine.
Just for fun: While in the hot tub at Great Wolf Lodge, there was a sweet grandmother that I would guess to be about 60.  She tried to enter the tub over the side.  Big mistake!  The poor gal tripped, fell face first into the hot water, and rolled awkwardly to a seated position.  She laughed uncontrollably with her middle-aged daughter who was already seated next to her and made eye contact with me across the way.  I smiled back and said, "Hey, I give you a perfect 10!"
Prayer: Lord, thank you so much for vacations and family time this summer.  May we represent You well and use it all for Your glory!  Amen. 
Categories: Uncategorized