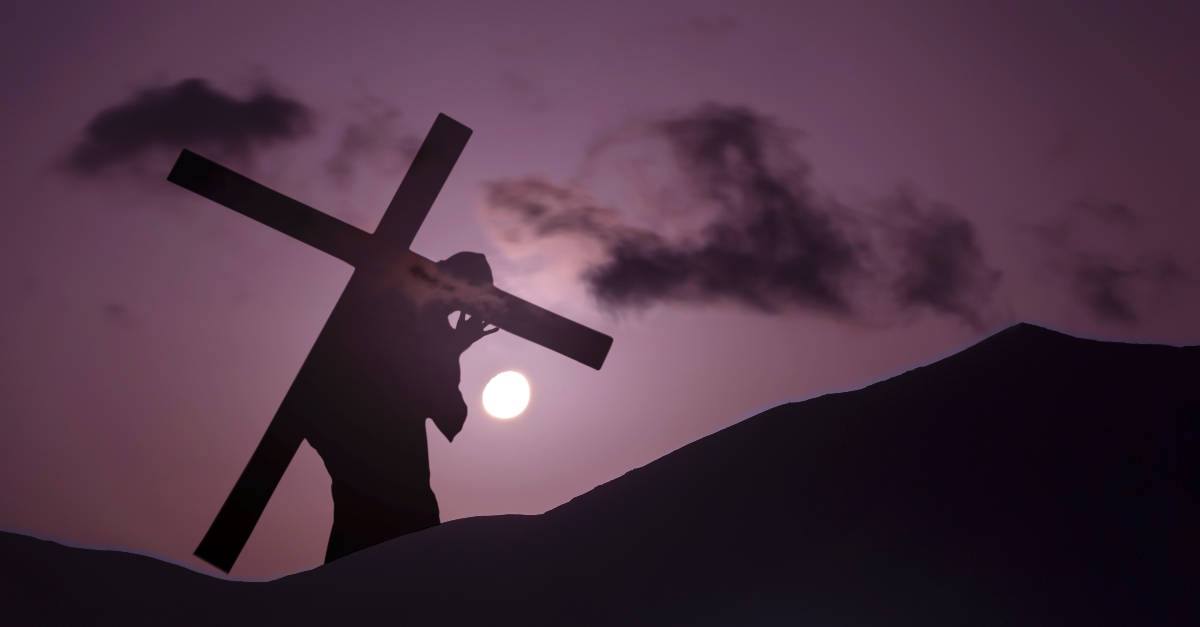 Core scripture: "And he said to all, 'If anyone would come after me, let him deny himself and take up his cross daily and follow me. For whoever would save his life will lose it, but whoever loses his life for my sake will save it.'" (Luke 9:23-24)
Message: Why do I even set my alarm? Ever seen that Seinfeld episode where Kramer talks about his mental alarm? That's me. My mental alarm woke me this morning at 4:30 am. The ten minutes of extra sleep would have been nice, but there I was grabbing my phone to turn the alarm off before it awoke my wife next to me. (Yeah, I'm nice like that.)
I clicked off the alarm, and all my apps were staring me down as I lay there in the dark. Quick check of e-mail … nothing good. Delete. Delete. What to do next? Before I knew it, Mini Golf King was popping up on my screen—except I had forgotten to turn off the volume. The intro music blared into my room, waking my wife from her beauty sleep. Dought!
"What time is it?" she asked wearily.
"4:37 am," I admitted regretfully. "Sorry, hun."
I stopped myself right then. What would God want me to be doing on my phone right now? The question was clear, crisp as a new 50-dollar bill in my mind. I closed out Mini Golf King and opened the new Promise Keepers app that I downloaded last weekend after watching a virtual marriage event. I began to read the day 3 marriage challenge devotion.
(Okay, so I skipped over the part where I opened the new treasure chests that I had earned from my Mini Golf King performances the day before. And just so you know, I was ranked number one in my division. Boo-yah!)
You ever have those moments? They happen all throughout my day. At home. At work. In the car driving somewhere. Everywhere! It is as if the angel is on one shoulder, the devil on the other. Your flesh versus God. What you want pitted up against what He wants. You can either pick up that cross you are struggling to carry or set it down and rest a while.
I have those moments all day as a teacher, and I bet you do, too. Should I check e-mail or go help that unmotivated student get started on a project? Do I complain about the mischievous students or praise the incredible ones? Do I tell my students to read quietly on their own or read aloud with emotion in my voice? Should I leave the building early before my contract time is over or stay until 3:30? Do I text during faculty meetings or pay attention?
I look at that scripture above, and it makes me think. Taking up your cross is not just a daily thing. It is an hourly thing. An every minute, even every second thing! You cannot just be a Christian teacher only when it is convenient for you. Being a Christian is a lifestyle change. The old has passed away. The new has come! (2 Corinthians 5:17)
How will you take up your cross today? God's will is different for each of us. Maybe He is telling you to write an encouraging note to a struggling colleague or student. Maybe He is nudging you to try to connect to that kid that draws in class as opposed to doing work. He might even be telling you to witness to that unbeliever. Whatever God is asking you to do, take up your cross. Follow Him, and work heartily, as for the Lord and not for man (Colossians 3:23).
Now, please pardon me as I rank up a level on Mini Golf King. Err, I mean send this blog post out to my school's prayer group.
Challenge: Pray that the Lord would navigate you through life's challenges. Brainstorm some ideas that you think God is telling you to do. Write them down. Journal about them. Pray about them. Connect these ideas to scripture. Finally, my friends, take up your cross and get to work.
Other scripture:
"So, my dear brothers and sisters, be strong and immovable. Always work enthusiastically for the Lord, for you know that nothing you do for the Lord is ever useless." (1 Corinthians 15:58)
"Therefore, since we are surrounded by so great a cloud of witnesses, let us also lay aside every weight, and sin which clings so closely, and let us run with endurance the race that is set before us." (Hebrews 12:1)
"Do you not know that in a race all the runners run, but only one receives the prize? So run that you may obtain it. Every athlete exercises self-control in all things. They do it to receive a perishable wreath, but we an imperishable." (1 Corinthians 9:24-25)
Just for fun: For your viewing pleasure, I give you the highlights of the Seinfeld episode I was talking about above: Kramer's mental alarm.
Prayer: Father, forgive me when I drop my cross and take a break from being a Christian. Help me lift it back up and carry it proudly today. Amen.
Categories: Uncategorized