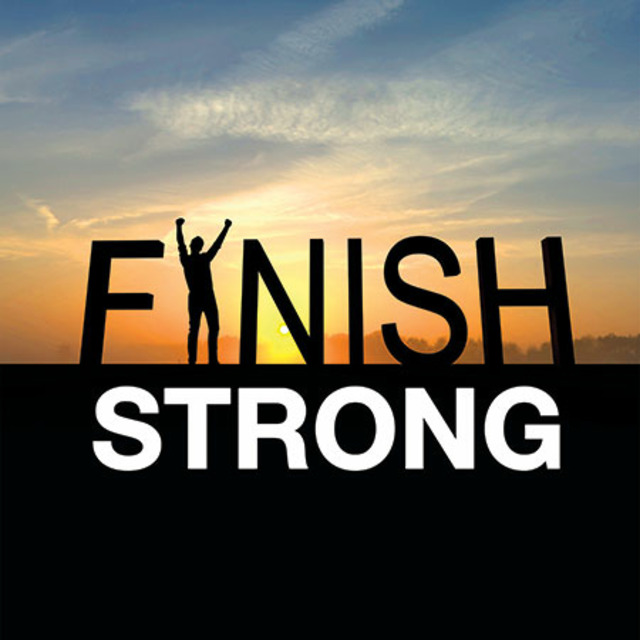 Core scripture: "But as for you, be strong and do not give up, for your works will be rewarded." (2 Chronicles 15:17).
Message: My Mom never stopped being a mom.  As we celebrated Mother's Day last weekend, I took the time to reflect on all the ways my mom influenced my life.  She read to me at night.  She took on leadership positions from elementary school all the way through my collegiate years.  She cooked.  She cleaned.  She chauffeured me to countless activities.  She cracked the whip when she needed to, but she was always there to show love and grace in the end.  My mom never gave up on me.  I am almost 43 years old, yet she still calls me her baby boy.
We could learn a thing or two about how to finish off the school year from my mom.  A mere week and a half of school remains for my district.  The temptation is to check it in, show a video or two, sign yearbooks, and call it good.  What would good old mom say about that?  What would God say about that?  I yearn to leave my students with a lasting impression that I actually care.  I am not counting down the days I have until summer; I am counting down the days I have left with my students.  There is a difference.
So, let's get real.  What can we do?  How can we send them off right?  Here are five ideas that you might want to consider.
Create movement! Kids get antsy this time of year.  Last week I rented out the library to have them complete a following directions activity.  They had to read two full pages of goofy directions, only five or six of which involved writing.  The last sentence of directions stated they only had to complete the written ones.  The goofy ones had them doing jumping jacks, clucking like a chicken, and dancing.  They loved it!
Teach life lessons. After that following directions activity, we returned to my classroom and had a conversation.  I asked an important question: "How many of you read the directions the right way but chose to follow the lead of others?"  A few shy hands would always go up.  We then took time to get serious and talk about how students need to be leaders and not follow the crowd.  They need to take a stance on what they know is right.
Commemorate successes. Today starts a two to three-day odyssey of paying tribute to all my students.  From the overachievers to the stinkers, all will be recognized.  I will be giving each of my students a personal note that I typed out to thank them for their hard work.  Yes, some may be difficult to applaud, but every kid out there has something praiseworthy to mention.  They all deserve to be recognized in a unique way.
Play games. Last week I had my students take a survey over what they wanted to do the last week of school.  Every class's number one choice was to play games!  Educational games can be a true blessing.  I might allow them to go down to the gym and play a game of knockout while answering questions about the novel we just finished reading.  Or we could have relay races, tagging partners to answer questions.
Allow choice. Students love having a say in what goes on.  I might allow class votes on a daily basis to choose activities to do.  Some classes might pick an inspirational video.  Others might select a creative writing activity.  Or acting out a scene from a novel.  Or doing a class read aloud.  The possibilities are endless, and the kids will love it if they have a say in what goes on.  I want to remember them for their smiles this week.
Every class has different interests.  Every teacher has a different skill set.  Allow the activities you choose to let both areas shine!  There may be moments when your patience is tested, but James 1:12 reminds us, "Blessed is the man who remains steadfast under trial, for when he has stood the test he will receive the crown of life, which God has promised to those who love him."  You can do it!
Stand firm in your Christian faith.  Make your mom proud of you.  Relish the opportunity to create intentional, memorable moments that will leave a lasting impression.
Challenge: How will you finish off the school year?  Make the last week full of activities that will leave a lasting impression on your students.  Do you have any of your own activities to share?  Reply to this blog below, and share your wisdom!  I would love to gain new ideas on how to finish strong.
Video application: This is a video for all you moms out there.  It reminds me of how I need to not only see the best in my students but to also pay heed to what their needs are.  Enjoy watching the Skit Guys try out "Mom Goggles."
https://www.youtube.com/watch?v=zkprjeipGD4
Bonus video: Have you ever been trying to finish a race in life and fallen flat on your face?  Watch the Heather Dorniden race below to find the inspiration to never give up!
https://www.youtube.com/watch?v=RQ4GjqNT-l4
Quote: "Most of the important things in the world have been accomplished by people who have kept on trying when there seemed to be no hope at all." (Dale Carnegie)
Prayer: Lord, empower me to not give up on my students.  May I give them my heart the last weeks of school to glorify You!  Amen.
Categories: Uncategorized