Core scripture: "Everyone must submit to governing authorities. For all authority comes from God, and those in positions of authority have been placed there by God." (Romans 13:1)
Message: Something has changed in our world today.  I am not sure if it is rebellious teens, disgruntled adults, or just a mentality that wants to buck the system.  Respecting your superiors seems to be going wayside.  We celebrated President's Day yesterday, yet our President, Donald Trump, is the brunt of more jokes than praises.
That is sad.
Now, I don't feel qualified to talk too much politics here, but I do know one thing: our President deserves our respect.  We may not agree with every decision he makes or every word that comes out of his mouth; however, he is our President, and God clearly charges us to be submissive to him.  This respect does not only include Trump but anyone in authority above you.  That is where the Christian teacher can connect.
We all have bosses.  We all have department chairs.  And yes, there are probably times when these people ask you to do something that seems meaningless.  Maybe you feel like your time would be better spent doing something else.  Though I do not have this issue much, I wonder how many of you fall into that category.
Open your minds.  This could be anything.  A new aspect of your curriculum you have to teach.  Data you are expected to take.  Professional learning books you are expected to read.  Or it could even be a section you are called to teach.  Guess what?  No job is perfect.  Keep a positive attitude.  As long as what you are being required to do is Godly, suck it up and do it.
That may sound harsh, but if you believe in God's Word, you will take it to heart.  Obey.  Submit with confidence, trying to see the good God has put in every situation.  And to the past presidents that have paved the way before us, we respectfully thank you for your leadership.  At the very least, Mr. Washington and Mr. Lincoln, the two of you gave us a day off yesterday.  Much appreciated!
Scripture study: Read Psalm 72.  Everywhere they talk about the king, picture someone in authority over you.  Let those words be your prayer to God.
Just for fun: I saw this President's Day meme and thought it might get a chuckle or two.  Is it Biblical?  Not really.  Is it funny?  You betcha!  And it gave me time to watch the new Sonic movie with my family, not to mention enjoy a two-hour game of basketball with my boys on the driveway.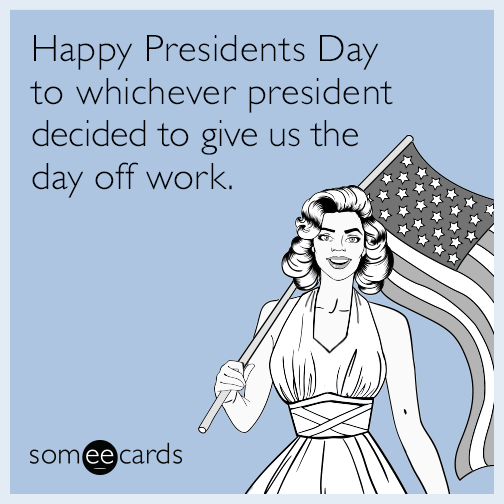 Prayer: Lord, help be respect the authorities above me the way You need me to.  May my actions inspire others to do the same.  Amen.
Categories: Uncategorized