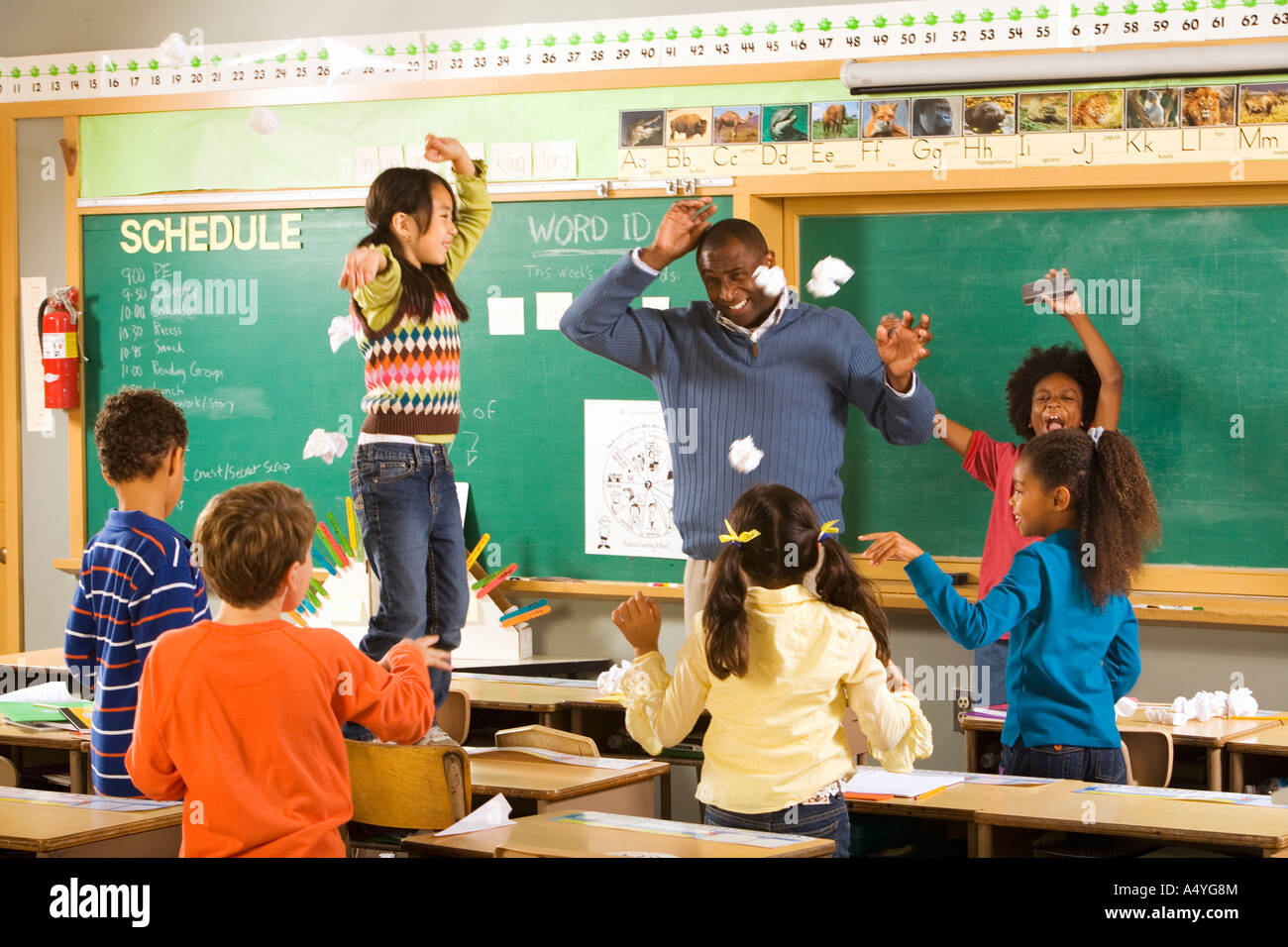 Core scripture: "There is a time for everything, and a season for every activity under the heavens … a time to weep and a time to laugh …" (Ecclesiastes 3:1, 4).
Message: It all started yesterday with a paper wad.  A single paper wad.  I was singing to my class Weird Al Yankovich style.  Ever heard of Weird Al?  He takes popular songs and creates parodies with his own lyrics.  Me?  I do the same during assessment season.  To kick off day one of reading today, I serenaded the kids with their choice of five different assessment songs.  There was a bit of everything to pick from.
Tom Petty's "Free Falling" was changed to "Beat the Assessment."  The Charlie Daniels Band's "The Devil Went Down to Georgia" became "The Assessment Came Down to Kansas."  You get the picture.  I think this class had chosen for me to do my own rendition of Katy Perry's "Roar."  To top it off, they had suggested I put on my blonde wig—you know, to simply be more like Katy Perry.  So I did.  There I was, singing amidst laughter and cat calls, when I saw him.
The kid, smiling mischievously, had crumpled it up and aimed it perfectly at my head.  Everyone saw it.  The paper wad flew like a heat-seeking missile and ricocheted off my temple, falling harmlessly to the floor.  At first I did not know how to react.  The moment was already lighthearted enough, and the class roared with laughter.  I continued my song only to be drilled with another paper wad.  Same kid.
By the time his third wad flew my direction, I dodged it, picked up one of his grenades off the floor, and chucked it back at him, nailing him in the shoulder.  This was war!  The class ended with that little stinker and I slinging paper wads at each other amidst hoots and hollers from his classmates.  By the time the next class came in and they had told me to sing "Beat the Assessment," I prefaced my performance with a little warning.
"All right, I know you will be dazzled by my amazing singing ability; however, I hope you choose to NOT throw paper wads in my direction."
I knew my mistake before the last of my words were uttered from my mouth.  When you tell a 7th grade boy to NOT do something, that teenage rebellion sinks in.  They do it!  I braced myself as five rascals flipped open their binders to find the perfect piece of paper to chuck at me.  It wasn't even three lines into the song before the first paper wad deflected off my side.  That set off a barrage of bullets from his posse.  I have to say that I defended myself well and was able to drill a few of them in retaliation.
By the time my most raucous group of boys arrived midday—how these 13 boys ended up in the same class together is still a mystery—I tried a different tactic.  I did not even mention the paper wads.  Too late.  Word had already spread.  As I warmed up my singing voice, all 13 of them began to prepare for World War III.  One stinker had taken like ten sheets of paper to create not a paper wad but a paper bomb.  Suddenly a blizzard of paper wads were airborne.
Can't beat em?  Join em!  Drilling these boys with paper wads at point blank range … are you kidding me?  I had waited for this moment all year long!  The song was completely abandoned this hour as they pelted me with paper wad after paper wad.  A hailstorm of paper wads took to the air.  It was like the Battle of Thermopylae.  Custer's Last Stand.  I fought back valiantly, yet I ended up it the fetal position, sucking my thumb in the corner of the room.  One minute till lunch.
"Alright, nobody goes to lunch until this room is clean of ALL paper wads!" I declared.
It was a team effort.  All those boisterous boys laughingly abided, and my recycle bin was now full to the brim.  As the last kid moved out the door, exhilaration flooded my soul.  This class that had caused me so many headaches through the school year—I had never had so much fun with them!  It was a moment that will forever be frozen in time.  The Great Paper Wad War of 2019.  I wonder what conversations came about last night at the supper table with those kids?
This whole thing got me thinking.  Sometimes you just have to have fun with your kids.  Laughter can be the best medicine for anxiety.  Had I responded with anger or frustration amidst the paper wads, letting detention slips fly left and right, anarchy may have ensued.  Instead I simply chose to have fun and laugh.  Solomon recommends it, and I do as well.  We may not have gotten through all those goofy songs, but I tell you what.  We made some memories.
Challenge: When the natives are restless and you might be tempted to let frustration get the best of you, choose the lighter side.  Choose to have fun.
Prayer: Lord, I thank you for the numerous things we can laugh and smile about this time of year.  May we all focus on the good You put around us.  Amen.
Categories: Uncategorized