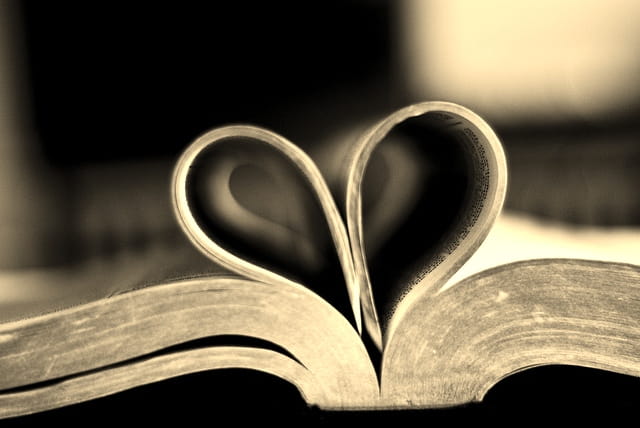 Core scripture: "We love because he first loved us." (1 John 4:9)
Message: Valentine's Day is fast approaching.  This begs the question of how we live out God's love on the job.  What can we do as teachers to reach out in love to our students, colleagues, parents, and administration?  To make this as tangible as possible, I want to provide you with 50 thoughts on love for Valentine's Day, including powerful scripture, inspirational songs, and applicable ways you can show love at work.
Give the opportunity for students to share something they love about a friend in the room. Whether it is verbal or a card, there are some that will thrive with those loving compliments.
"Let all that you do be done in love." (1 Corinthians 16:14)
Tell the class a specific thing you love about them in general. For example, I would say to my 1st hour class that I love how they begin working on their bell work so quietly and focused.
One of my all-time favorite Christian love songs is "One Thing Remains" from Kristian Stanfill. Play this song early on Valentine's Day so it will be echoing in your head.  https://www.youtube.com/watch?v=GoYgi0sdOqc
Write a personal note to a student in need of prayer. Encourage them.  Tell them how you will be praying for them.  And then follow that up by praying.
"Anyone who does not love does not know God, because God is love." (1 John 4:8)
Give your students candy. Nothing says love like sugar!  It is amazing what a single Hershey Kiss will do for a kid.
Give away free high fives or fist bumps as the students come in or leave your classroom. Want to take it to an extreme?  Come up with personalized high fives for each kid like this teacher!  https://www.youtube.com/watch?v=I0jgcyfC2r8
"For God so loved the world, that he gave his only Son, that whoever believes in him should not perish but have eternal life." (John 3:16)
Make your way down to the lunch room and say thank you to the lunch ladies. I don't go down there enough.  Tell them they are appreciated.  Ask if you can pray for them in any way.
Pick up a piece of trash or two on your way out of the lunchroom. Give a nod and a wink to the custodian as you do so.  When students see you modeling this, they will follow.
Another great Christian song of God's love for us is Crowder's "How He Loves." I love this live version from K-Love.  https://www.youtube.com/watch?v=Plngh8SkkA4
Write a special note of encouragement to a colleague you truly appreciate. Sign it anonymously, and leave it in their mailbox.
"Love is patient and kind; it is not jealous or conceited or proud; love is not ill-mannered or selfish or irritable; love does not keep a record of wrongs; love is not happy with evil, but is happy with the truth. Love never gives up; and its faith, hope, and patience never fail."  (1 Corinthians 13:4-7)
Call or text your spouse in the middle of the day. Tell them one specific thing you appreciate about them, expressing your love.
I might play Phil Wickham's "Your Love Awakens Me" all day as my students enter my class on Valentine's Day. It is uplifting, powerful, and safe to play.  I love it when my Christian kids hear a song like this and then start singing it Karaoke style!  https://www.youtube.com/watch?v=EQyXsJMkUPg
Listen to a student or colleague in need. Sometimes all someone needs during a stressful time is someone to listen to them.  Don't dismiss their problem.  Try to empathize.
"And above all these put on love, which binds everything together in perfect harmony." (Colossians 3:14)
Do a compliment train. Begin by giving a student a specific compliment.  That kid gets to compliment someone else.  The idea is to keep it going until the entire class has been complimented.  If a kid is stuck or embarrassed, you get to take the compliment back and pass it on to a new student.
Nothing speaks of God's love for us like Cory Asbury's "Reckless Love." https://www.youtube.com/watch?v=Sc6SSHuZvQE
Play an appropriate song about love for the students to listen to. Have them connect it to their own lives, and encourage how they can be more loving toward others.
Watch this YouTube video about what a 20-year-old girl did to show love to others on her birthday. Have the students discuss how serving others can be the greatest way to bring joy to yourself.  https://www.youtube.com/watch?v=AFTBBKIX760
"Above all, keep loving one another earnestly, since love covers a multitude of sins." (1 Peter 4:8)
Leave a few quarters, nickels, and dimes in the middle of your classroom floor. Watch the joy on your kids' faces as they pick them up.  If they ask whose it is, say, "Finders keepers!"
Make a positive phone call to the parent of a student who is doing the job right. Let them know specific things the student is doing well, and then close your conversation by telling them how they are raising a wonderful, well-mannered child.
"Your Love is a Song" by Switchfoot is a beautiful song. Listen to it, and let it guide you to love others.  https://www.youtube.com/watch?v=Px0EXdyPkA0
Bring some chocolates for the secretaries in the front office to share. Let them know how their positive attitudes are the face of the school when visitors arrive and how much you appreciate all the work they do behind the scenes.
Tell a joke to someone who needs a smile. Nothing says love like a good laugh.
"Greater love has no one than this, that someone lay down his life for his friends." (John 15:13)
Give your students opportunities to write Valentine's Day cards to their parents. Teach them how to write a good thank you note, being specific in their praise, checking the spelling, and providing a compliment from the heart.
What are you an expert in? Maybe it is technology.  Or student relationships.  Or curriculum.  Find a colleague who struggles in that area, and selflessly serve them.  There is no better way to show them love.
Another upbeat Christian song about love is Jason Gray's "With Every Act of Love." I love when this song echoes in my head all day after hearing it on my drive to work.  https://www.youtube.com/watch?v=V4bB7BUxBbY
Acknowledge each child by saying their name at least one time during the day. Especially the sweet, quiet ones.  Greet them with a smile as they come in your class.
"A new commandment I give to you, that you love one another: just as I have loved you, you also are to love one another. By this all people will know that you are my disciples, if you have love for one another." (John 13:34-35)
Listen to "The Proof of Your Love" by For King and Country. What a wonderful way to live our lives!  https://www.youtube.com/watch?v=jiQmTQgN1q4
Find a student that is a little behind. Give them your time.  Guide them.  Encourage them.  This act of service could mean the world to their self-esteem.
"So now faith, hope, and love abide, these three; but the greatest of these is love." (1 Corinthians 13:13)
Give the students opportunities to tell what they love about their school. It will promote school spirit, pride, and respect.
Help a student clean out their binder or desk. Nothing says love like a clean, organized binder!  This act of service could make a world of difference in their organization.
"There is no fear in love, but perfect love casts out fear. For fear has to do with punishment, and whoever fears has not been perfected in love." (1 John 4:18)
A smile is the easiest way to show love.  Live out Philippians 4:8 all day long on Valentine's Day.  It will be easier to smile that way.
Casting Crowns nails this one in how much Jesus loves us in "Glorious Day." https://www.youtube.com/watch?v=VXp6xcY5IqU
"Hatred stirs up strife, but love covers all offenses." (Proverbs 10:12)
Say thank you to an administrator. I could not imagine dealing with behavior issues all day long amidst meetings, organization of the school, and making their face be seen.
Compliment a student that does not get complimented much in front of the class. Let this praise be authentic.  Sometimes that is all that kid needs to have a good day.
Find a small group of students who are friends to sit down and have lunch with in the library. Let your guard down.  Give them quality time.  Enjoy conversation and fellowship.
Toby Mac's "Love Broke Thru" is an awesome reminder of how love will always be stronger than hate. The music video speaks volumes about this.  https://www.youtube.com/watch?v=44l9PRI4c2M
Pray over your students throughout the day. Whatever may be ailing each child, quietly lift them up and watch what the awesome power of prayer can do.
Take a colleague's supervision duty before or after school if they are overwhelmed with work.
Share this blog with a colleague who needs to hear it. Allow them to show the same love you will be showing this week.
I love reminding my middle schoolers that Valentine's Day does not always have to be about romantic love.  It can be about the love of a friend, family, or anything you are grateful for.  One thing is for sure, though … the love that we show to others all comes down to a love that was shown to us at Calvary many years ago.  That legacy, the love of God through Jesus Christ, is as vital today as ever to share with others.  However you see fit, be that love this week of Valentine's Day.
Challenge: Pick and choose which ways of showing love work for you and set your heart on being that love to others this week.  If you have your own ideas on how to show love to others, I would love to hear from you!  Reply below with an idea or activity that shows love.
Prayer: Father, may the love You show me be the same love that spills into those around me.  Amen.
Categories: Uncategorized