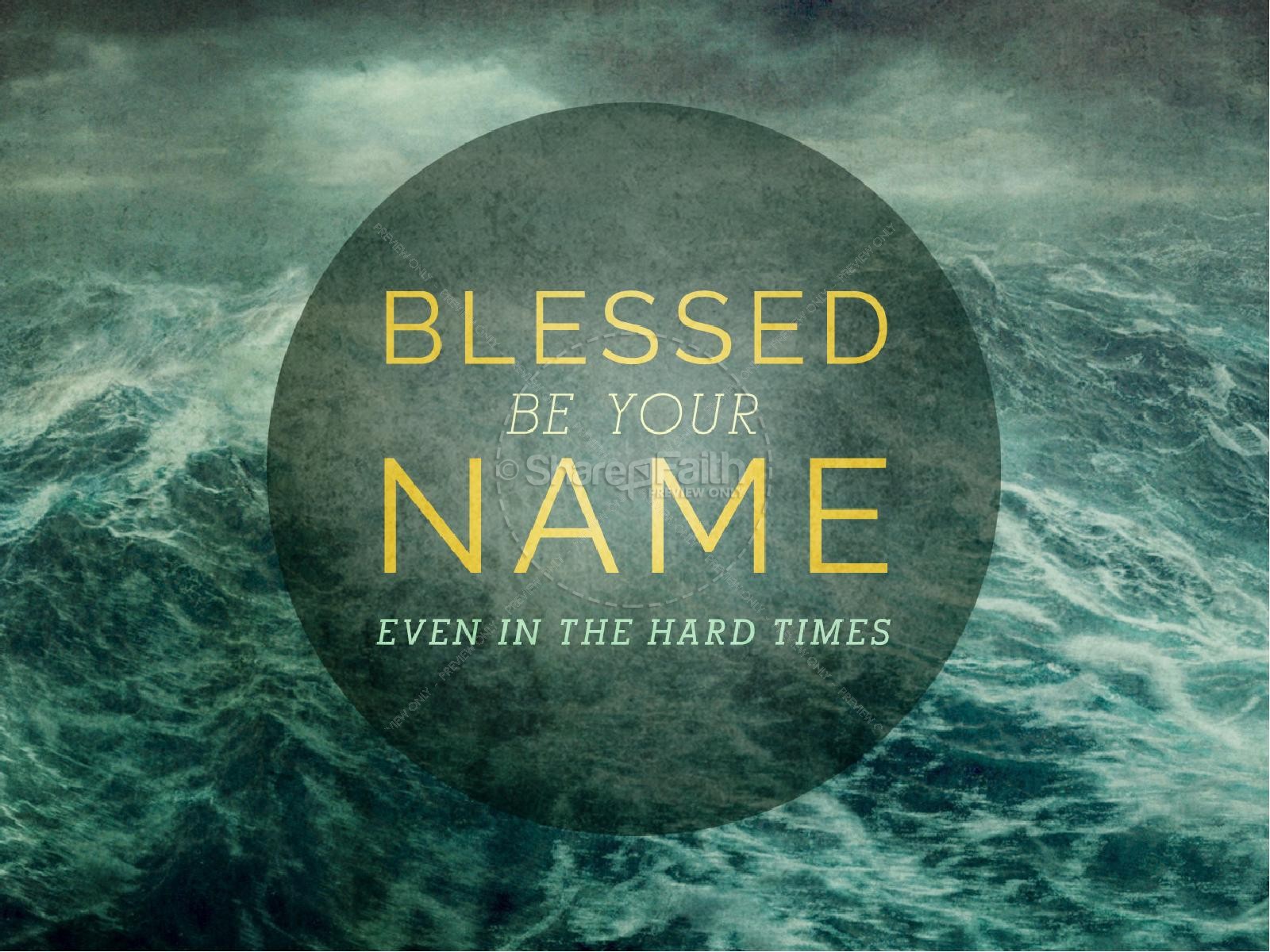 Core scripture: "I give thanks to you, O Lord my God, with my whole heart, and I will glorify your name forever" (Psalm 86:12).
Song application: This normally comes at the end.  Today I feel it fits best at the beginning.  Listen to Tree63's "Blessed Be Your Name" on the link provided below.
https://www.youtube.com/watch?v=fkbzAWW8Wvg
Message: I want to try something new this week of Thanksgiving.  My blog has featured plenty of songs through the years, but I am not sure I have ever written about a specific song more than once or twice.  This week we will look at Tree63's classic "Blessed Be Your Name."  I played the song this morning, letting the lyrics marinate in my soul.  Now it is time to break the lyrics down, stanza by stanza, to seek out their true meaning.
Blessed be Your name
In the land that is plentiful
Where the streams of abundance flow
Blessed be Your name

This type of praise is easy.  When God showers us with blessings, it is so easy to say thank you.  We want to live in those moments forever.  It is in the next stanza that things get a little tougher.

Blessed be Your name
When I'm found in the desert place
Though I walk through the wilderness
Blessed be Your name
I find it difficult to live in this moment.  Don't we all?  Praising God during the trials of this life is anything but easy, but it is needed.
Every blessing You pour out
I'll turn back to praise
When the darkness closes in, Lord
Still I will say
Blessed be the name of the Lord
Blessed be Your name
Blessed be the name of the Lord
Blessed be Your glorious name
Here we mix the two together.  The good and the bad.  Blessings and darkness.  Can you live in that moment?  Can you raise your arms in praise, wholly and completely trusting His plan for you?
Blessed be Your name
When the sun's shining down on me
When the world's all as it should be
Blessed be Your name

Stop for a second.  Where is God shining down on your life right now?  Take time to thank Him for it!  Praise Him in all His glory!

Blessed be Your name
On the road marked with suffering
Though there's pain in the offering
Blessed be Your name
Let's pause again.  Where are you suffering right now?  Thank God for that struggle.  Pray that you will be able to see His eternal perspective through it all.  Trust in His perfect will.
You give and take away
You give and take away
My heart will choose to say
Lord, blessed be Your name
God is indeed behind it all.  He gives and takes away.  This is straight from the Book of Job, a man who wrestled with praising God through his struggles.  Job says, "Naked I came from my mother's womb, and naked I will depart. The LORD gave and the LORD has taken away; may the name of the LORD be praised" (Job 1:21).  What an amazing model to follow!
Looking deeper into this song, I searched the history of it.  Although Tree63 performs the song, it was originally written by Christian artist Matt Redman and his wife Beth in September, 2001, a few weeks following the horrific events of 9-11.  I am not sure about you, but the last thing I would think of doing after that week is to write a worship song—especially after finding out my brothers, both members of the Army, would soon be called to action.
Still, that type of blind faith is what I crave my heart to feel.  During the good times and the bad.  Is it easy?  Certainly not, but I can at least try.  Paul reminds us, "Rejoice always, pray without ceasing, give thanks in all circumstances; for this is the will of God in Christ Jesus for you" (1 Thessalonians 5:16-18).  Praise God this week, knowing He is behind it all.
Challenge: I would love to hear your thoughts about the good, the bad, and the ugly in your life.  Reply back to comment on a prayer or a praise in your life right now.  I value all of your stories and hope they can provide hope for other Christian teachers.
Prayer: Lord, I thank you for Your countless blessings.  The things I may take for granted, the goodness I see, even the trials set before me, I praise You for it all.  Allow me to be grateful on this week of Thanksgiving.  Amen.
Categories: Uncategorized