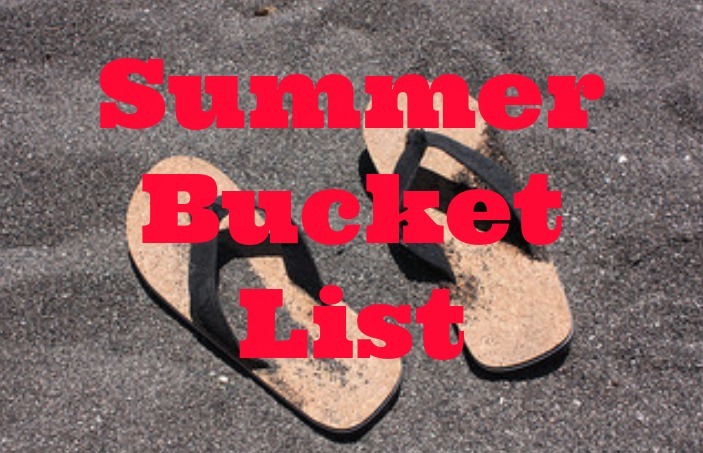 We were reading the Outsiders last spring.  In chapter five, Johnny and Ponyboy wake up to see a jaw-dropping, gorgeous sunrise over the valley, painting a glorious picture on the horizon that can only be attributed to the Almighty.  As we read the scene and discussed S.E. Hinton's vivid imagery she uses to describe the scene, I paused and posed a question to my 6th hour class.
"So, how many of you have actually woken up extra early to see a sunrise?"
The question prompted numerous hands to shoot up.  Some waved urgently, eager to share their own unique story.  Above it all a young lady in the back of the room spoke up saying, "It is on my summer bucket list!"  Her comment got me thinking.  What is on my summer bucket list?  Does my summer bucket list line up with God's summer bucket list for me?  Quick news flash … If you haven't begun thinking about your summer, it will be over before you know it.
Do you remember the days when you were a kid and summer lasted forever?  I don't know what it was back then.  Summer just lingered.  I soaked up every minute of it, whacking golf balls at the range, basking in the warmth of the sun at the pool, and whacking fireflies with my oversized baseball bat at night, watching them light up as they fell to the grass below.  What happened to those days?  We are already a few weeks into summer, and it feels like the days have melted away like butter on a hot skillet.
Can you hear God's tender whisper in your ear?  What is He telling you to do this summer?  He has blessed all teachers with two months of freedom.  One thing that I have learned through the years since I was saved in February of 2013 is that you accomplish more when you sit down and make a list.  I started doing this on a weekly basis.  Every Sunday afternoon, I would find a quiet spot and pray to God, asking Him what He needed me to do that upcoming week.  I called it "God talk."  Then, as the week progressed, I would check off my list one by one, feeling fulfilled that I was actually living out what God needed me to do.
Proverbs 19:21 states, "Many are the plans in the mind of a man, but it is the purpose of the Lord that will stand."  It is time to seek out God's purpose.  Right here.  Right now.  With that said, I would like to create my summer bucket list below … well, I mean GOD'S summer bucket list for me.
Begin writing a book of teacher devotionals. I have my blog here full of ideas; why not use them to create something special for the Christian teacher?
Make some memories at Disney! My family has been blessed in that my in-laws are taking us to Disney World at the end of June.  I want to savor every minute of it!
Volunteer at TLC, a local organization that helps kids in need. They have reading buddies and movie nights this summer, and I would love to be a part of that.
Take my family to one of the free concerts at the park down the road. Hey, you can't beat free, and it is always fun to "people watch" there.
Write my Great Auntie Martha a letter. She is the last surviving great grandparent on my mother's side of the family, and I love her dearly.
Take more steps in sharing my testimony. I have tried contacting NAMI (National Alliance on Mental Illness) and would love to reach out to their cause.
Freshen up my blog! For my birthday—I turn 40 in two weeks … Yikes!—I asked my wife permission to pay for the upgrade on it.  I want to see what it has to offer.
Skim through the new textbook our Language Arts department got and see if there are any new stories I would like to teach this year.
Finish reading Raising a Modern Day Knight. I started it a few weeks ago, and it is giving me great substance in how I can better raise my two boys in God's Word.
Deep clean one room in my house per week. It seems like a daunting task when I look at the specific checklist my wife created, but the final product should be rewarding!
Use the extra time I have been blessed with for accountability with men in my small group at church. I want to sharpen them and have them sharpen me as well.
Utilize the group fitness classes that my gym has to offer in the daytime. They are free with our family membership, and there is no reason not to take advantage of them.
I suppose that will suffice for now.  The cool thing about bucket lists is that you can always return to them if God speaks to you with a new idea.  With all that being said, what is God telling you to do this summer?  Think all areas of your life.  Friends.  Family.  Projects.  Recreation.  Spiritual well-being.  How can you grow yourself to further God's kingdom?  I urge you to take step one and pray to God for direction.  Step two, writing your list, will actually take care of itself!  "Commit your work to the Lord, and your plans will be established" (Proverbs 16: 3). 
Categories: Uncategorized